SINGLE CD/MP3 PLAYER
SINGLE CD PLAYER ALPINE CDA 117E PLUS PROCCESOR PXA H100 (GARANSI RESMI)

(BEST PERFORMANCE FOR SOUND QUALITY )


Rp.4.445.000,.
CDA-117E Flagship CD/MP3/WMA/AAC Receiver
This all new premium head unit delivers Alpine's unmatched sound quality. The CDA-117E boasts a 24-Bit DAC, 7-band graphic EQ or 5-band parametric EQ, along with 6-channel digital time correction and Alpine's own MediaXpander technology to achieve the best possible sound from all your favourite media formats. The CDA-117E also features Alpine's all new digital tuner that finds and locks onto radio stations with extreme precision and virtually eliminates interference from adjacent stations, resulting in crystal clear radio reception at all times.
iPod / iPhone control has never been easier, with all search functions performed by the rotary encoder, simply press the encoder to access the search menu, then turn the encoder left to right to select from playlist, artist, album, song, podcast, genre, composer or audiobook. Plus, the USB connection allows for convenient connection of a wide range of USB memory devices. Alpine's Tag banking feature increases file reading speed up to three times faster than its predecessors.
PXA-H100 IMPRINT Sound Processor
IMPRINT Sound is a stunning new suite of sound processing technologies that let you sit in the producer's chair and hear music exactly as it was meant to be heard. It delivers sonic accuracy never before available in the car, and utilises sophisticated professional sound tuning technologies, including MultEQ, that measure your car's acoustics and process the sound − precisely and automatically! The CDA-9886 and CDA-9884E are IMPRINT Ready − simply connect our PXA-H100 processor and get full IMPRINT Sound in your car, easily and inexpensively. Using a laptop computer, your dealer can acoustically tune up your car in just minutes, and with guaranteed optimum results.
SINGLE CD PLAYER PIONEER DEH-X1950UB (NEW PRODUCT 2017 & GARANSI RESMI PIONEER)

Rp.1.200.000,.
▪ CD player, radio, USB / AUX-in support for playing CD / MP3 / WMA / WAV. ▪ To a player from Pioneer. DEH-X1850UB. appearance beautiful than ever. ▪ The radio reception FM, MW, SW and RDS. ▪ channels with CD, USB via the front panel. ▪ channel AUX front panel with mini jack stereo 3.5mm. ▪ Supports USB high speed 2.0. ▪ compatible with CD / MP3 / WMA / WAV. ▪ displays the text. Up to 10 characters. ▪ fiftieth W RMS x 4CH. ▪ Sound Retriever to restore the quality of compressed audio. ▪ 6 Preset EEQ. ▪ three Band EQ. ▪ remote control. The wireless connection is connected to the control unit on the steering wheel to the Pre-Out 1 signal is set to Full / SW have a new front panel design. ▪ Demo Mode. ▪ Display Off to turn off the monitor. Mixtrax.

SINGLE CD PLAYER SONY CDX-G1050U (GARANSI RESMI SONY)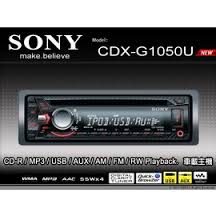 Rp.945.000,.
- 45 Degrees installation - Metallic finish - Automatic title scroll - Low/mid/high adjustments - AM/FM, CD, MP3, AAC, WMA, SAT and HD Radio Ready Receiver with Remote Detachable face - Dot-matrix display - Wireless remote control included - Blue button lighting - Peak: 52 watts x 4 channels - RMS: 17 watts x 4 channels - CD Text Display - MP3 ID3 Tag Display (Title/Artist/Album) - Playback of CD, CD-R, CD-RW, MP3, AAC, and WMA
SINGLE CD PLAYER PIONEER DEH-2550UI (GARANSI RESMI PIONEER)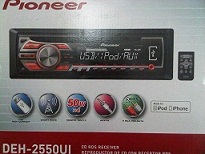 Rp.1.075.000,.
▪ radios - CD 1 piece ▪ screen display Dot metrix display. ▪ could play CD-R/RW/MP3/WMA/AAC. ▪ Posted connect USB front connection AUX-in front Versatile connection. The iPod / iPhone (cable CD-IU51). ▪ was driving 50W x 4. ▪ decode 24 bit DAC. ▪ equalizer 5 band Equalizer browser. ▪ loop out 2 series car stereo quality.
SINGLE CD PLAYER JVC KD-R436 (out of stock)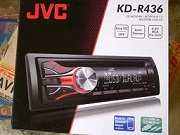 Rp.845.000,.
▪ High-Pass Filter/Low-Pass Filter 4.8V Line and Subwoofer Pre-Out Level ▪ MOS-FET 50W X 4 24-bit DAC 3 – BAND PARAMETRIC IEQ ▪ FRONT USB PORTS ▪ MP3/WMA Compatible with ID3/WMA TAG (CD/USB) ▪ Loudness Control 4.8 V LINE, AND SUBWOOFER Pre-Out Level RCA Pre-Out TERMINAL (REAR / SUBWOOFER SWITCHABLE) ▪ Subwoofer Control ▪ High-Pass Filter/Low-Pass Filter ▪ Dual AUX-IN ( Front/Rear ) ▪ Auto Dimmer ▪ Beep Tone Support ▪ Backup Memory/Radio timer
SINGLE CD PLAYER PIONEER DEH - 3350UB
(out of stock)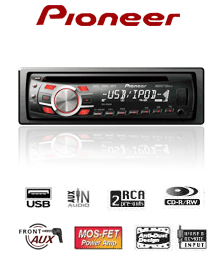 Rp.925.000,.
▪ CD ▪ USB stick ▪ AM/FM radio station ▪ Front USB Connection ▪ Front Aux-In Connection ▪ Subwoofer Control ▪ Advanced Sound Retriever ▪ Built in 50W x 4 Channel High-Power MOSFET Amplifier ▪ EEQ – Easy Equalizer ▪ Wired Remote Input ▪ Detachable Face Security ▪ Anti-Dust Design ▪ CD R-/RW ▪ Wireless Remote control ▪ 2 x RCA Pre-out
SINGLE CD PLAYER PIONEER DEH - 5350UB
(out of stock)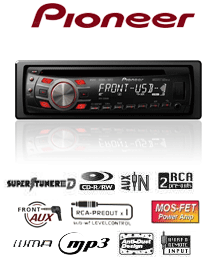 Rp.1.100.000,.
▪ MP3, WMA ▪ USB ▪ iPod,ipon ▪ 1 RCA Pre-out ▪ RDS ▪ Super Tuner II D ▪ Mosfet 50Wx4 ▪ Aux-in ▪ RDS ▪ EEQ ▪ Detachable face Security ▪ CD R-/RW ▪ Wired Remote Input
SINGLE CD PLAYER PIONEER DEH - 6350
(out of stock)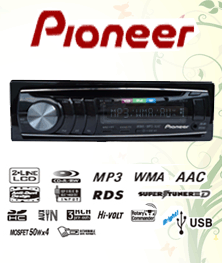 Rp.1.245.000,.
Seamless connections, stellar quality and superior convenience - pioneering a growing range of car entertainment. Through Pioneers ingenuity and engineering prowess, these and many other qualities give the latest DEH Audio Receivers the edge in delivering optimum performance - 2-Line LCD Display - Advanced Sound Retriever - MOSFET 50 W x 4 Amplifier - Front AUX Input - MP3/ WMA Multi-Format Compatibility
SINGLE CD PLAYER PIONEER DEH - 8350SD
(out of stock)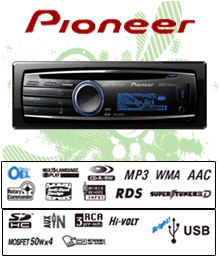 Rp.1.645.000,.
- Display :DEH-8350SD - Preout :Full Dot OEL (160 x 48) - Audio Format :MP3, WMA, AAC - USB Interface (1) :Front (3) - SD/ SDHC Memory Card Slot : Built-In - (1) Compatible to USB Device only. Not compatible to DRM (Digital Rights Management) contents and MTP (Media Transfer Protocol) connection player. - (2) Compatibility with unit depends on iPod generation. - (3) Use CD-U50E USB extension cable if a direct connection causes a USB Device to protrude from the headunit in a way that can interfere with driving. - (4) Requires use of CD-IU50.